Enhance Your Style With Custom Decks In Angleton, TX & Brazoria County
NEW RENOVATIONS FENCE & DECKING COMPANY builds beach house decks, boat docks, and backyard custom decks in Angleton, TX. We can also replace old decking and staircases and build ramps for accessibility. Our team offers various decking options from 5/4" to 2" x 6" decking boards, plus a composite material available in a multitude of colors.
We only use the best quality materials such as galvanized carriage bolts and stainless steel decking screws. Ask us about our stain and sealing services if you want to change your look from traditional wood colors.
5-Year Deck Warranty
We provide our customers with a standard 5-year craftsmanship and material warranty for every custom deck we build. Check out our reviews from across the region, and you'll see evidence of our quality and attention to detail.
Our Decking Systems
We build our decking systems according to Texas Windstorm Standards. We work with Texas Windstorm Certification companies when required for a given project. Your deck will start with the posts being set firmly in the ground with concrete.
Concrete is cheap, so why skimp? We don't. Our ground-level decks come with the same integral structure as taller decks. We use a skid-steer and can drill anything from a 9-inch hole to a 36-inch hole with depths down to ten feet. You can attach the deck to your home and we'll help you get Windstorm certified, or we can also build a detached deck without the certification; the choice is up to you.
Custom Staircases
We build our custom staircases as solid as our decks. They come with a 6.5" rise to make the stairs easy to ascend and descend. We start with a solid foundation with our post set in multiple bags of concrete, depending on the post's height and size. From there, we use three 2" x 12" stingers for a 3 to 4-foot wide staircase. Custom staircases wider than four feet will require four or more stringers, depending on the design.
We can build your custom staircase from any of our standard deck board materials. However, if you want to use a composite of 5/4" board, the stringers need to be no more than 12" apart for maximum strength.
Paver Patios
We can build paver patios in sand or mortar with any stone of your choosing. We start by digging down a few inches and laying a GEO-Matt to strengthen the sub-structure and spread out the load. We then use a compactor to ensure the ground is solid. The GEO-Matt is especially useful in soft terrain. Then we add either concrete with rebar for driveways or coarse sand for a walking area. We can build any size patio, sidewalk, or driveway you'd like. Why wait? Give your home a unique look that will separate you from the norm; you'll be glad you did.
Ground-Level Decks
Our ground-level deck posts are concreted into the ground, just like our larger decks. Again, we will only use pressure-treated lumber with Class 3 hot-dipped galvanized nails, carriage bolts, and Z-Max joist hangers. Our pressure-treated stringers and joists adhere to standard building codes. We set the joists according to the type of material used. A 5/4" or composite decking board will have joists set on 16" centers, and a 2" x 6" decking board will be placed on 24" centers unless otherwise requested. For a slightly higher cost, you can add handrails upon request. You can also opt for stainless steel screws; they add peace of mind knowing they won't rust.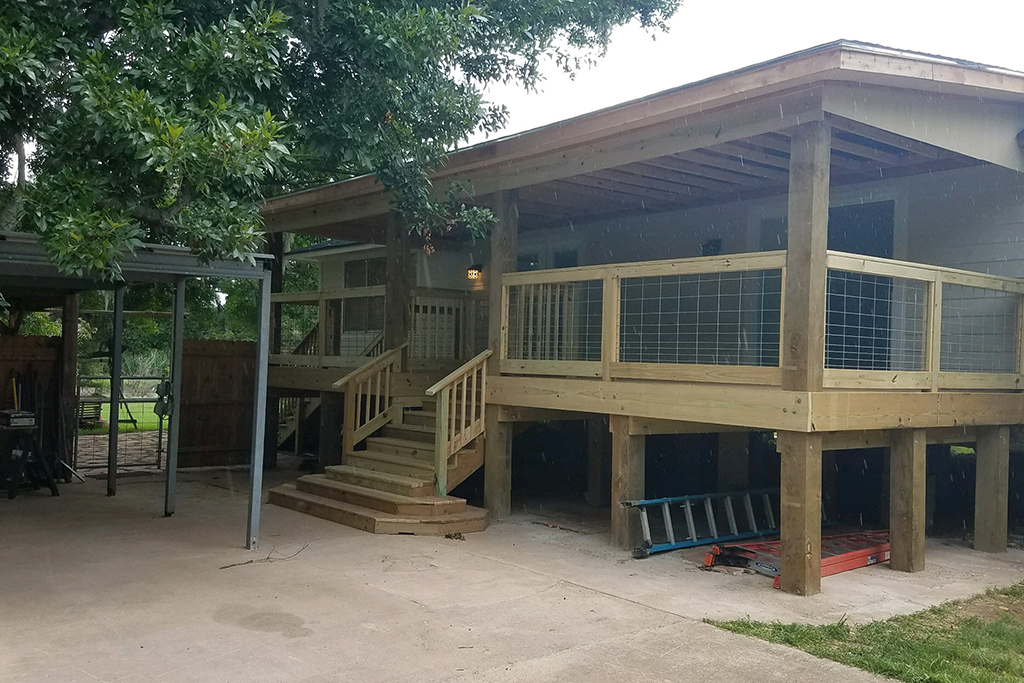 Above-Ground Decks
Our above-ground decks are great for above-ground swimming pools, lifted houses, modular and mobile homes. We determine deck post sizes by the build, the distance between the posts, the deck's height, and whether the structure needs a roof. It also depends on whether the deck is on the coastline or several miles inland. Windstorm is a factor homeowners need to consider for any above-ground deck, especially one with a roof. The closer you are to the coast, the bigger and deeper the post.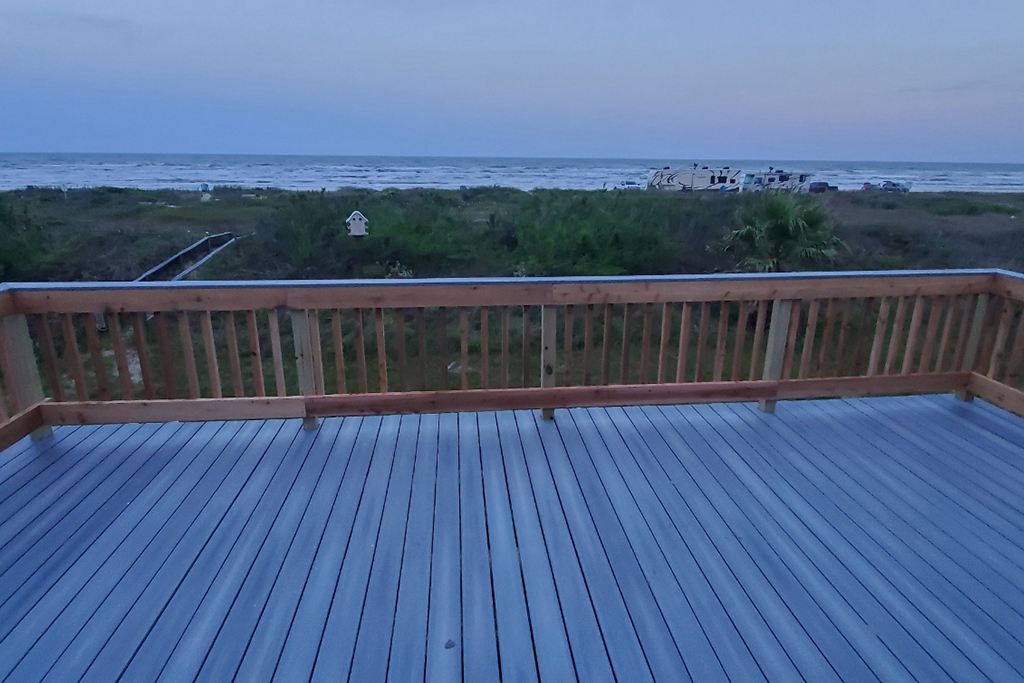 Beach House & Boat Dock Decks
Beach house decks will use either 6" x 6" post or 8" x 8" post for the main structure, depending on the application. The posts will have two stringers per row with a 2" x 6" or 2" x 8" riser between the stringers vertically from the bottom to the top of each intersecting board. Our joist will then sit on top of the stringers and be connected using 3" galvanized ring shank nails for each riser to connect the stringer to the joist. Our deck boards include:
● 5/4" Decking Boards
● 2" x 6" Standard Pressure-Treated Lumber
● 2" x 6" Radiused, Pre-Sanded, Pressure-Treated Decking Boards
● Composite Decking Boards
All of our lumber can be sealed, stained, or painted. Trex and Fiberon make our composite decking boards, and both come in a multitude of colors and grades. The higher the grade, the more wood grain detail, and the longer the warranty.